March 3, 2017
Lewis Family Cancer Fund Makes Sixth Donation to Winter Haven Hospital Foudation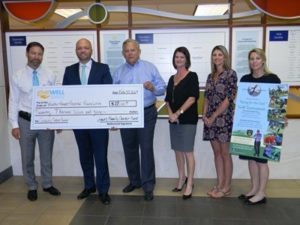 Pictured from left to right are: Steve Nierman, Winter Haven Hospital CEO, Josh Lewis, Bill Lewis, Kristie Reed, Sandy Lewis and Jean Bostick.
The Winter Haven Hospital Foundation is pleased to announce a new $20,000 contribution from the Lewis Family Cancer Fund (LFCF) within the GiveWell Community Foundation. With this recent donation, the LFCF has granted a total of $145,000 over the past seven years to the Foundation. Part of this year's grant will go directly to support the Winter Haven Hospital Cassidy Cancer Center with the remaining dollars of the grant to be utilized to underwrite a Winter Haven Hospital Foundation feasibility study that is examining the establishment of a Family Medicine Residency program. This residency program will help improve and aide in the local quality of healthcare and early diagnosis and treatment of cancer and other chronic illness for the citizens of Polk County.
The Lewis Family Cancer Fund within the GiveWell Community Foundation was founded by brothers Josh and Geoff Lewis. The Fund was established to help promote public awareness and assist in funding research development in the prevention and cure of cancer. The LFCF is committed to facilitating further advances in research, patient care and to alert the public of the importance of early detection and diagnosis.
Josh Lewis states, "Much of the success of the LFCF can be attributed to my brother Geoff, who lost his battle with cancer two years ago. Geoff's vision and strong desire was to help make a difference in the fight against cancer. We are particularly excited about the opportunity to help fund the Winter Haven Hospital Foundation's Family Medicine Residency study since the first line of cancer detection and prevention usually occurs in our family doctor offices. Thank you to everyone involved in the LFCF and our local communities for being so supportive."
Previous donations from the LFCF have been utilized to help purchase the new state-of-the-art 3-D mammography technology located at the Winter Haven Women's Hospital Breast and Imaging Center.
Winter Haven Hospital Foundation Chairman Lance Anastasio states, "The Winter Haven Hospital Foundation is grateful for the ongoing strategic partnership it has with the Lewis Family Cancer Fund. The LFCF and its supporters are making a major impact in the quality of life we all enjoy in our community. Our heartfelt thanks goes to each and every person and organization that is involved with the LFCF, you are touching the lives of local cancer patients and their families.